Lets Get Together
After much traveling I'm thrilled to be back in Barcelona and able to hold space for Sacred Breath Circles, Sound Therapy, Detox Days (rapid fat-loss), or for Massage and Bodywork sessions.
Come share the magic of vibrational medicine with me! Through transformative breathwork, soothing resonant sound waves from the singing crystal bowls and gong, light medicine for a dozen different phototherapy based beauty and health treatments, or for a traditional massage in my home.
Activities & Services
Fat-Loss / Weight Loss /Detox Programs
Skin Rejuventation and Photofacials with LED Phototherapy
Massage & Bodywork
Sound Medicine with Singing Crystal Bowls & Gong
Sacred Breathwork - An Active Meditation & Shamanic Journey
Energy Healing - Reiki, Reconnective Healing, Theta, BodyCode
Breathwork & Sound Healing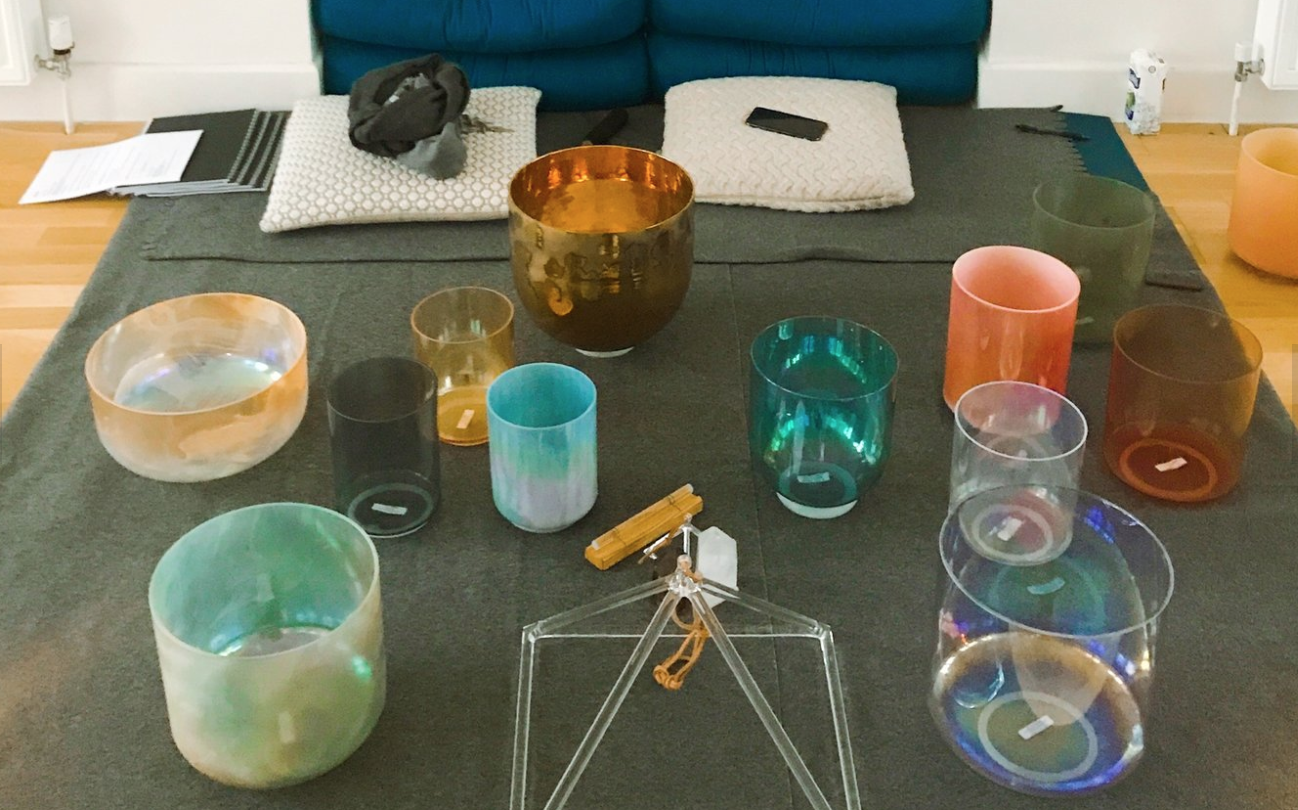 Experience exploration, discovery, healing, and personal growth. Transformational breathwork is often called meditation for people who can't meditate, and will enable you to release beliefs and patterns that no longer serve you, and take better care of yourself. As we work with the breath you will transform through the session into a place of clarity, calm and relaxation. Some will go deeper and achieve mystical states and visions. Many first time breathers in this method claim it to be "one of the most powerful experiences, like ten years of therapy in a single session". You'll breathe to a curated playlist to enhance the experience, and the session will close with sound healing with the soothing vibrations of singing crystal bowls and the gong. Sound therapy is a beautiful complement to breathwork, promoting relaxation and a sense of deep peace, while opening the body's energetic system and clearing stuck energy stored deep within our tissues.
HIGH-TECH PhotoFacials with LUVHR BOTANICALS PRODUCTS
I developed the LUVHR collection of non-toxic skin, body and bath care containing zero fillers, chemicals or nasties - so clean you could eat, (and smelling so divine you almost want to).
The line features gem & sound essences, therapeutic grade aromatherapy oils, and is rich with the healing powers of plants and flowers - rose, lavender, frankincense abound with other active botanicals to rejuvenate and heal the skin, naturally.
My signature facial includes cleansing, a mildly exfoliating peel, and twenty minutes of LED anti-aging red light treatment to minimize fine lines and wrinkles while improving the radiance, laxity, and complexion of skin.
If you love your treatment, the products will be available for purchase and I can show you how to use them from home. The LED phototherapy system retails for $397 and will be discounted by $100 for clients. LUVHR Botanicals is a moderately priced collection giving 10% back to non-profits that support women, children, and mother earth.
lipo-laser & red light phototherapy for PAIN RELIEF
Lose Fat & Relieve Pain with Nushape Phototherapy and The Nushape Essentials Slimming System
My portable clinical strength Laser Lipo and Red Light Therapy system brings med-spa technology and red light waves to reach the fat layer to drain fat from fat cells effortlessly for rapid fat loss and cellulite control. The Nushape Therapy device performs over 20 different wellness and beauty treatments like pain relief and photofacials for skin rejuvenation and anti-aging. Nushape can be added to a massage to enhance pain relief results and decrease inflammation or used on it's own. If your goal is to lose fat, studies show the same red light wavelengths as used in my laser lipo device stimulate fat loss, and improve workout results by 50%!
Nushape Essentials slimming products use all natural botanicals that slim and detoxify to complement The Nushape phototherapy treatments.
Massage and ENERGY MEDICINE
Massage Therapy
I offer head-to-toe healing bodywork sessions based in Lomi-Lomi, to assist the body to balance its natural energy flow through pathways known as meridians and chakras. Free flowing energy gently aligns with healthy vibrations, leaving you feeling relaxed, uplifted, rejuvenated and inspired. Many ailments, injuries and conditions are greatly relieved as well as the discomforts associated with managing a life of illness or the imbalance of health and wellness.
Sessions go beyond Lomi - Lomi, with healing oils infused with crystals and aromatherapy, and phototherapy treatments for pain relief, skin rejuvenation or fat loss. *These additions are optional and seamlessly integrated into our session in a way which never interrupts the flow of the bodywork.
Energy Medicine
Energetic healing sessions that will uncover your innate clarity and personal power. Reconnect with Reiki and Reconnective healing, release emotional and energetic blocks through energy medicine techniques from Theta Healing, The Emotion Code and Body Code, designed to find and then clear trapped emotions and energetic imbalances and the root cause of pain, depression, anxiety, and self-sabotage- to restore emotional and physical well being.
My QUALIFICATIONS
My initial training was in meditation and energetic healing with my Grandmother, and I was certified in massage therapy from Santa Monica School of Massage and IPPT in Los Angeles in 2004 when I turned 18. The same year I became a Reiki Master Teacher with Joyce Morris from The Reiki Center in Los Angeles. I went on to complete training and certifications in the Emotion Code, Body Code, Reconnective Healing, Theta Healing, and most recently in Breathwork and Sound Therapy (Singing Bowls and Gongs The SoundBath Center in Los Angeles, Breathwork Facilitation from Sacred Breath Academy). I'm also the founder of Nushape LLC, and the Author of Light Medicine - Happier, Healthier, Stronger with LED Phototherapy. I've happily devoted my life to the world of alternative wellness and look forward to sharing this passion with you!
EVENTS
JUNE: MODERN BEAUTIES OF BARCELONA
A Light Medicine Experience
High Tech Treatments For Your Best Skin, Body and Mind.
Come experience the magical world of LED Phototherapy. Red Light and Infrared Treatments turn back time so you can look and feel ten years younger - without pain, side effects, or down time.
Sign Up To Receive:
Non-Invasive laser-lipo, body sculpting treatment (valued at €150)

High Tech Photofacial (valued at €125)

10 Minutes of Vibration Therapy (valued at €35)

Infrared Sauna Session (valued at €40)

A copy of my book - Light Medicine: Happier, Healthier, Stronger with LED Phototherapy

€100 discount on any LED Phototherapy Device on my site

Complementary fat loss and radiant skin booster shot.
What you can expect:
Expect to spend approximately one and a half hours, lose approximately two inches of fat (if you choose to have a laser-lipo session), while burning at least 600 calories with the infrared sauna and vibration therapy plate, and leaving with glowing radiant skin from your photofacial. For those with aches and pains, choose the therapy treatment for pain and inflammation - results are typically immediate. Feel free to bring a friend as there is space for two at a time :-)
Value: Over €500
Experience Rate:
€55
July BARCELONA Breath & SOund Circle: DATE TBD
Experience a New Kind of Meditation
The breath is a high form of technology for self-healing. Breathwork is an active meditation technique - part catharsis, part socially sanctioned adult temper tantrum, and part psychedelic experience.
This is a night where we will journey together in a supportive space using the breath to purge the body of emotional gunk. Breathwork enables us to let go of the day to day mind and tap into the many other levels of our being. Through the breath we are able to viscerally feel where our blocks lie and actively move through them, getting to the deeper, clearer parts of our being. It is a dynamic and wild ride. To close, we will attune to healing sound vibrations and frequencies - instruments used in sound healing help the regulate and calm the nervous system, boost energy, let go of energetic blockages, and release emotions in order to facilitate the healing process that is inherent in all of us.